Back
Adel Abdessemed, Die Taubenpost
Adel Abdessemed
Die Taubenpost, 2021
Aluminium peint
260 x 590 x 290 cm
Courtesy Adel Abdessemed et GALLERIA CONTINUA (San Gimignano, Beijing, Les Moulins, La Havane, Rome, Sao Paulo, Paris, Dubaï) 
The work Die Taubenpost is a monumental manifesto, at the crossroads of the banality of everyday life and the violence boiling at its surface. This gigantic zoomorphic apparition in aluminum is part of an animal lineage that the artist has been exploring for many years. Here, the figure of the pigeon, overhanging the ground with its two meters height, proposes a reading against feet of its original evocation. The bird, ancient factor of news, carries today, immobile, an explosive charge on its back. For Adel Abdessemed, the presence of violence has become as familiar as that of pigeons, the military and police presence as numerous as the latter. By mixing ordinary creatures with the emblem of terrorism, he captures the culture of fear, distilling a threat that boils to the surface of everyday life.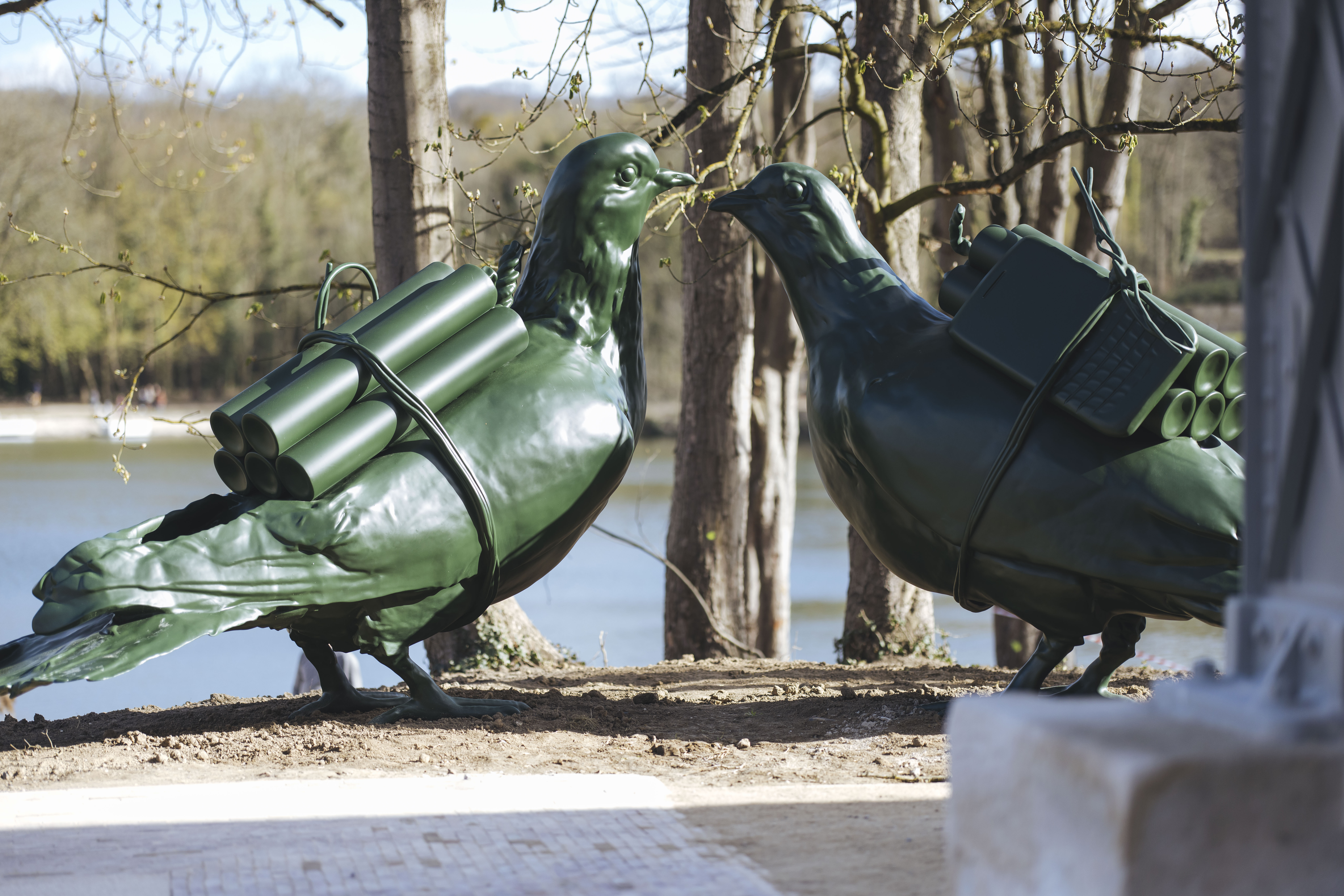 Biography of the artist
Adel Abdessemed studied at the École Supérieure des Beaux-Arts in Batna and then in Algiers, before fleeing at the beginning of the civil war in 1992 and settling in France. A key figure on the international contemporary scene, steeped in classical culture, literature, poetry and with a passion for music, Adel Abdessemed uses a wide variety of media to make art the place where a society exposes its violence and fragility. For more than thirty years, he has been developing a committed body of work, placed under the sign of the shout, incandescence and freedom. His work has been shown in numerous exhibitions around the world: at MoMA PS1 in NYC, the Parasol Unit in London, the Centre Pompidou in Paris and the Rockbund Art Museum in Shanghai.