Back
The Hangar Y and the ceiling of the Opéra Garnier
07.03.2023
DID YOU KNOW ?
The Hangar Y has hosted the ceiling of the Opera Garnier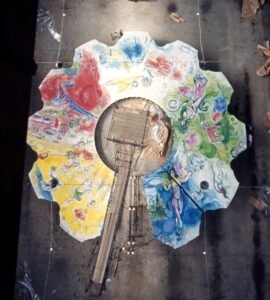 It was 100 years after the inauguration of the Opéra Garnier that André Malraux, Minister of Cultural Affairs at the time, decided to modernize the opera house by commissioning his friend, the painter Marc Chagall, to create a new set for the ceiling.
To replace the original decor painted by Lenepveu on a copper dome, Marc Chagall proposed a removable decor consisting of a removable assembly of 24 paintings. Executed mainly at the Gobelins, these 220 m2 of canvases required a sufficiently large space close to Paris to assemble them.
With its 2800 m2 of surface, the nave of the Hangar Y was one of the only spaces able to accommodate the 13 panels of the ceiling. Transported and assembledThe ceiling was transported to the Hangar Y on August 7, 1964, and then moved to the Opéra Garnier where it was unveiled to the public on September 23, 1964.
The ceiling of the Garnier Opera created by Marc Chagall was assembled at the Hangar Y!
Image Credits: © Helene Jeanbrau / Gamma-Rapho / Getty Images © March Chagall, ADAGP 2023