16.12.2023 - 21.04.2024
Children's workshop: the Little Explorers
Book
The superpowers of light
What is light? What's the difference between sunlight and flashlight? What properties make light one of the most important forces in the Universe?
This winter, echoing the exhibition Taking the sunLes Petits Explorateurs offers fun workshops and seven scientific experiments on the "superpowers of light".
During this animation the child will be able to :
Introduction
Defining the properties of light
Light is produced by a variety of sources, which the children discover. They will also understand that light is not matter, but is composed of different rays.
Experiment #1: The different sources of light
Understanding what makes up light
This experiment lets children observe light coming from different sources, and understand that it's not always made up of identical rays.
Experiment #2: Photons galore
Understanding the creation of light
In this demonstration section, children observe the physical phenomena behind the creation of photons.
Experiment #3: Photon fishing
Concentrating or separating light
Children manipulate objects to gather or separate the spectrum of light.
Experiment #4: The light saber
Understanding the different types of light rays
The laser used in this workshop is an infrared beam, like the TV remote control. The laser is used to prove that light is invisible without matter.
Experience #5: Light and Shadow
Understanding shadows
By absorbing light with different colors, children explore the relationship between matter, its colors and light.
Experience #6: Black and white
Understanding the interaction between matter and light
The teacher shows the children how light can create movement!
Experiment #7: UVA, UVB, UVC
Understanding the interaction between UV rays and matter
Children will observe how certain materials react to UV rays, and why we need to protect ourselves from them.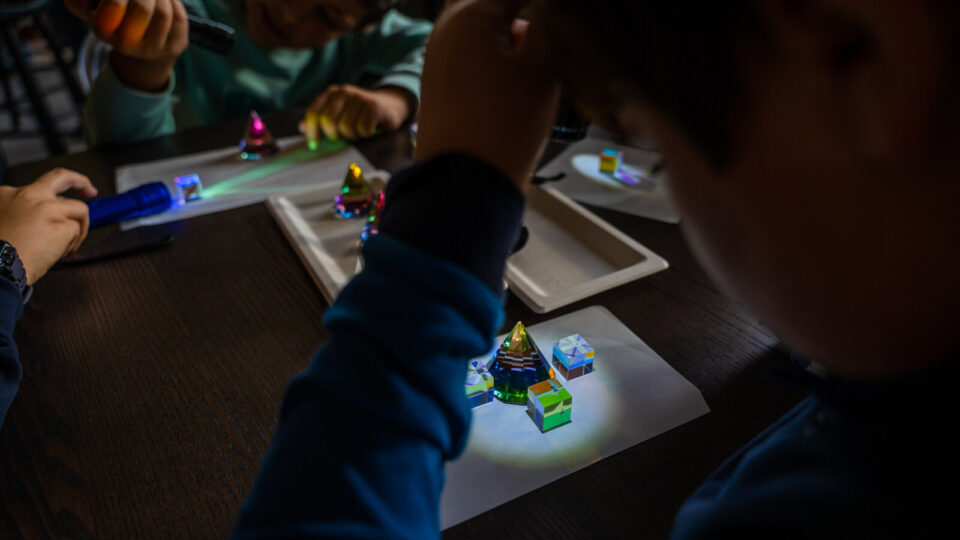 MORE INFORMATION
Every Saturday from 3 to 4 pm
Ages 6 to 12
Price: €15 per child, €10 per additional child